The Inayati Order of Greater Boston is devoted to meditation instruction, spiritual growth, and the teachings of Hazrat Inayat Khan, Pir Vilayat Inayat Khan, and Pir Zia Inayat-Khan. It sponsors classes and events occurring around southeastern New England at a number of locations. It is a collaborative of centers of the Inayati Order, an interfaith organization dedicated to spiritual growth and development.
Classes and Events for Fall 2017 - Spring 2018
---
Classes and Announcements
The fall season is here and we have some exciting new events and classes.
Netanel Miles-Yépez, the Pir of the Inayati-Maimuni Order, will be a special guest to the area offering a program in Providence, RI on September 10th, on Yoga of the Heart: The Eight Limbs of Sufi-Yoga; see below.
In Jamaica Plain we will be engaging in a monthly experience of music, sacred chant, poetry, story and Sufi teachings called Sema: The Art of Listening with the Heart. Also in Jamaica Plain, Aziza Scott will return to the area for a day of mediation on the theme of The Hermit and the Knight, exploring practices to connect to our ideals and uphold them in the challenge of everyday life.
The annual New Years Universal Worship in Marblehead is announced on the Marblehead page. We are also continuing our series of Universal Worships in the Back Bay, Boston, see the Boston page.
Please note that classes and events will not be held in Sharon this year, instead, they will be held in Jamaica Plain.
For a complete listing in your area, see the Cambridge, Boston, Marblehead, Dartmouth, or Rhode Island pages.
Featured Events
The Hermit and the Knight
One Day Meditation Retreat
with Aziza Scott
Sunday October 8th, 2017 and Saturday, May 5th, 2018 and
9:30 am to 4:30 pm
Hollow Reed School, 93 Sedgwick St., Jamaica Plain, MA
Pir Vilayat Inayat Khan would speak about how we have within us both the archetype of the Hermit and of the Knight. The Hermit retreats into the sacred atmosphere to remember, to renew, and to align with their ideal. The Knight is called to uphold the ideal in the world.
How do we interact in the world with integrity and compassion? How can we hold our point of view and yet understand that of another?
Aziza will share teachings, practices, and meditations which seek to honor and cultivate the Hermit and the Knight within us.
Aziza Scott, M. Ed., is the emerita head of the Esoteric School and Director of the Retreat Program of the Inayati Order. She brings insight and experience gained from many years of leading meditation retreats and conducting workshops throughout North America, Europe, and India.
Cost is sliding scale $50 - $95. Potluck lunch.
RSVP Naima Khabira (617) 522-0800 x3 / inayatiorder?Subject=Aziza retreat.
Get the printable flyer here.
Sema: The Art of Listening with the Heart
Hollow Reed School, 93 Sedgwick St., Jamaica Plain, MA
Saturdays Sept. 16th, Oct. 28th, Dec. 9th, 3:00 - 5:00 PM
We will share in an afternoon of music, sacred chant, poetry, story and Sufi teachings led by area teachers and musicians.
Drawn to Remembrance of the deeper source of ourselves we will seek to be uplifted and aligned with grace and wholeness.
The themes of our gathering will be Love, Harmony and Beauty.
"In the religion of love, music is union; sometimes it's the question, sometimes the solution."- Mas'ud
The September 16th Sema will also be acknowledging the September 13th anniversary of the day Hazrat Inayat Khan left India to bring the Sufi Message to the West, called Hejerat Day, and the Urs of Pirzadi Noor-un-Nisa Inayat Khan, who passed on that day fighting for liberty against fascism.
The Sema will be guided by Naima Khabira Brown, Qalbi Tucker, Hermione Garland, and Aqil Brown.
Followed by a potluck or tea and snacks, TBA.
Donations gratefully received.
Contact Naima Khabira Brown at inayatiorder
Universal Worship
A Celebration of One Human Family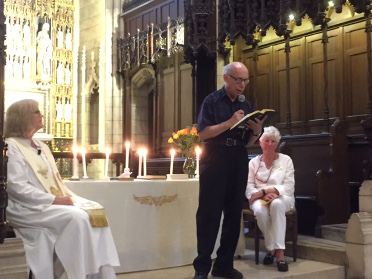 Lindsey Chapel at Emmanuel Church
15 Newbury St., Boston, MA (in the Back Bay)
Tentative Dates: Saturdays, October 21st and December 2nd, 2017, 3:00PM
Watch for email confirmation one month in advance
We join together in Universal Worship, Hazrat Inayat Khan's inspired service of unity, bringing together many of the world's religions at one altar in joyful celebration as one human family. Through the lighting of candles and the sharing of illuminating stories, chants, prayers and scripture readings from the world's major religions, we grow in tolerance, respect and appreciation for the wisdom behind them all.
The service is usually about an hour long and is facilitated by Reverends Hermione Garland and Pauline Medice, joined by friends. Volunteers are welcome! Donations are gratefully accepted to cover costs.
We have arranged discounted parking nearby for $10.00 for 11 hours. Details and directions can be downloaded from this link.
We generally reserve a table for those who would like to eat together after the service at Thai Basil Restaurant, 132 Newbury Street, downstairs. The restaurant is nearby, and the food is delicious and reasonably priced! Please RSVP to the email we will send in advance of the service if you plan to join us, so we know how many to expect for the service and include in the reservation. If you are not on our email list, and would like to be notified, please send a request to inayatiorder. We look forward to seeing you there! Details and directions can be downloaded from this link.
---
"Thus the ultimate purpose for which the soul is seeking every moment of our life, is our spiritual purpose. And you may ask how to attain to that purpose. The answer is that what you are seeking for is within yourself. Instead of looking outside, you must look within. The way to proceed to accomplish this is for some moments to suspend all your senses such as sight, hearing, smell, touch, in order to put a screen before the outside life; and by concentration and by developing that meditative quality you will sooner or later get in touch with the inner self which is more communicative, which speaks more loudly than all the noises of this world; and this gives joy, creates peace, and produces in you a self-sufficient spirit, a spirit of independence, of true liberty."
-- Hazrat Inayat Khan
---