The Inayati Order of Greater Boston is devoted to meditation instruction, spiritual growth, and the teachings of Hazrat Inayat Khan, Pir Vilayat Inayat Khan, and Pir Zia Inayat-Khan. It sponsors classes and events occurring around southeastern New England at a number of locations. It is a collaborative of centers of the Inayati Order, an interfaith organization dedicated to spiritual growth and development.
Classes and Announcements
New class schedules for 2018-2019 now available! For a complete listing in your area, see the Cambridge, Boston, Marblehead, Dartmouth, or Rhode Island pages.
The Art of Personality: Aziza Scott will offer a one day mediation retreat in Jamaica Plain, March 9th 2019. The theme will be The Art of Personality. For more information scroll down or see the Boston page.
Sema: The Art of Listening with the Heart We will come together for an afternoon of sacred music, movement, poetry and meditation on Saturday, November 10th, 2018, in Jamaica Plain. See the Boston page for more information.
Featured Events
Making One's Own Nature: An Exploration of Creating a Self with Sufi Teacher Pir Zia Inayat-Khan
Cambridge, Massachusetts
December 1 & 2, 2018
REGISTER EARLY! SPECIAL RATES AVAILABLE THROUGH OCTOBER 27th, 2018.
As human beings we have the privilege and responsibility of fashioning not only our lives, but our very selves, in accord with our highest vision of meaning and beauty. The nature that we create in our mind and heart accompanies our soul through life and leaves its signature on the world. Over the course of two days, through the practice of meditation, prayer, spiritual reflection, and sacred sound, we will participate directly in making our own nature.
Our gathering will take place at The Dante Alighieri Society in Kendall Square, Cambridge, convenient to public transportation, hotels, various AirBnBs, and many wonderful restaurants. Daily parking is available at the Kendall Cinema Garage for $5.00, with ticket validated at the seminar.
SCHEDULE: DECEMBER 1st & 2nd, 2018
Tuition includes Pir Zia's teaching Saturday and Sunday during the day, from 10-1 pm and then 2:30-5:00 pm. One day tickets are available.
REGISTRATION / TUITION
Early Registration ($250 after Oct. 27) : $195
First Time Attendee of an Inayati Order event : $125
Student: $70.
One day tickets are available on the registration page. To register go to : https://inayatiorderboston.eventbee.com/event?eid=105068792.
SPECIAL FREE PUBLIC TALK WITH PIR ZIA FRIDAY EVENING, NOVEMBER 30th, 2018, 7:30-9 PM.
There will be a free public talk the prior Friday evening on "Living Between the Center and the Edge" with Pir Zia: The world is continuously changing around us. How does one keep one's center, and at the same time engage meaningfully with a shifting landscape? Drawing on the wisdom of the Sufi tradition, Pir Zia will speak about the spiritual art of moving between, and harmonizing, the external and internal dimensions of life. Registration for Friday evening is separate; to register go to https://InayatiOrderBoston.eventbee.com/event?eid=130174422.
BIOGRAPHY
PIR ZIA INAYAT-KHAN, Ph.D. is the spiritual leader of The Inayati Order, an interfaith mystical fellowship with branches worldwide. He is a scholar of religion and teacher of Sufism in the lineage of his grandfather, the Indian mystic and musician Hazrat Inayat Khan (1882-1927). Pir Zia's books include Saracen Chivalry: Counsels on Valor, Generosity and the Mystical Quest (2012) and Mingled Waters: Sufism & the Mystical Unity of Religions (2017). He and his family live in Richmond, Virginia, where he regularly offers classes and programs at the Astana, the Inayati Order's North American headquarters. www.inayatiorder.org.
CONTACT
Please contact us at MakingOnesNature@gardenlight.org with questions, scholarship requests, and for any other details. We look forward to meeting you in late November in Cambridge!
All are invited to join us and are welcome. We are committed to making our programs as open and accessible as possible. Please let us know what is needed to help accomodate your participation.
The Art of Personality
One Day Meditation Retreat
with Aziza Scott
Saturday, Mar. 9th, 2019
9:30 am to 4:30 pm
Hollow Reed School, 93 Sedgwick St., Jamaica Plain, MA
It is one thing to be a human being and it is another thing to be a person. A human being becomes a person by making a personality, by completing the individuality in which is hidden the purpose of our coming on earth. Angels were made to sing the praise of the Lord, jinns to imagine, to dream, to meditate; but we are created to show humanity in our character. It is this which makes one a person. - Hazrat Inayat Khan
Aziza will share teachings, practices, and meditations which inspire us to be the artist of our personality, to fulfill the beauty within by bringing it into our life.
Aziza Scott, M. Ed., is the emerita head of the Esoteric School and Director of the Retreat Program of the Inayati Order. She brings insight and experience gained from many years of leading meditation retreats and conducting workshops throughout North America, Europe, and India.
Cost is sliding scale $50 - $95. Potluck lunch.
RSVP Naima Khabira (617) 522-0800 x3 / inayatiorder?Subject=Aziza retreat.
Get the printable flyer here.
Universal Worship
A Celebration of One Human Family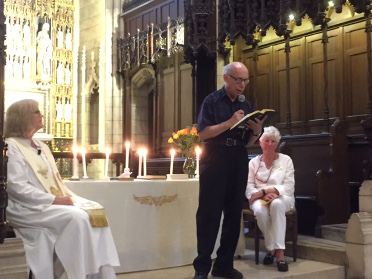 Lindsey Chapel at Emmanuel Church
15 Newbury St., Boston, MA (in the Back Bay)
Saturdays, Jan 26th, March 30th, June 22nd, and Oct. 26th, 2019
We join together in Universal Worship, Hazrat Inayat Khan's inspired service of unity, bringing together many of the world's religions at one altar in joyful celebration as one human family. Through the lighting of candles and the sharing of illuminating stories, chants, prayers and scripture readings from the world's major religions, we grow in tolerance, respect and appreciation for the wisdom behind them all.
The service is usually about an hour long and is facilitated by Reverends Hermione Garland and Pauline Medice, joined by friends. Volunteers are welcome! Donations are gratefully accepted to cover costs.
We have arranged discounted parking nearby for $10.00 for 11 hours. Details and directions can be downloaded from this link.
We generally reserve a table for those who would like to eat together after the service at Thai Basil Restaurant, 132 Newbury Street, downstairs. The restaurant is nearby, and the food is delicious and reasonably priced! Please RSVP to the email we will send in advance of the service if you plan to join us, so we know how many to expect for the service and include in the reservation. If you are not on our email list, and would like to be notified, please send a request to inayatiorder. We look forward to seeing you there! Details and directions can be downloaded from this link.
---
"Thus the ultimate purpose for which the soul is seeking every moment of our life, is our spiritual purpose. And you may ask how to attain to that purpose. The answer is that what you are seeking for is within yourself. Instead of looking outside, you must look within. The way to proceed to accomplish this is for some moments to suspend all your senses such as sight, hearing, smell, touch, in order to put a screen before the outside life; and by concentration and by developing that meditative quality you will sooner or later get in touch with the inner self which is more communicative, which speaks more loudly than all the noises of this world; and this gives joy, creates peace, and produces in you a self-sufficient spirit, a spirit of independence, of true liberty."
-- Hazrat Inayat Khan
---