---
Boston/Jamaica Plain, MA
---
Sema: The Art of Listening with the Heart
Hollow Reed School, 93 Sedgwick St., Jamaica Plain, MA
Saturday, Nov. 10th, 2018, Jan. 5th, Feb. 9th, Apr. 13th and May 11th, 2019, 3:00 - 5:00 PM
We will share in an afternoon of music, sacred chant, poetry, story and the Pratice of the Symbol: the heart and wings with crescent moon and star.
Drawn to Remembrance of the deeper source of ourselves we will seek to be uplifted and aligned with grace, wholeness, and spiritual resources for everyday life.
"The heart and wings is both earthly and heavenly; the wings picture it's rising"- Hazrat Inayat Khan
Led by area teachers Naima Khabira Brown, Qalbi Tucker, Hermione Garland, Aqil Brown, Huraksh Skaler, and Auliya Westcott.
Followed by a vegetarian potluck dinner.
Donations gratefully received.
Let's be together and share sacred joyful space and friendship!
Please R.S.V.P. inayatiorder
---
Universal Worship
A Celebration of One Human Family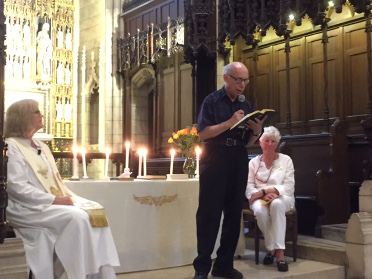 Lindsey Chapel at Emmanuel Church
15 Newbury St., Boston, MA (in the Back Bay)
Saturdays, Jan 26th, March 30th, June 22nd, and Oct. 26th, 2019
We join together in Universal Worship, Hazrat Inayat Khan's inspired service of unity, bringing together many of the world's religions at one altar in joyful celebration as one human family. Through the lighting of candles and the sharing of illuminating stories, chants, prayers and scripture readings from the world's major religions, we grow in tolerance, respect and appreciation for the wisdom behind them all.
The service is usually about an hour long and is facilitated by Reverends Hermione Garland and Pauline Medice, joined by friends. Volunteers are welcome! Donations are gratefully accepted to cover costs.
We have arranged discounted parking nearby for $10.00 for 11 hours. Details and directions can be downloaded from this link.
We generally reserve a table for those who would like to eat together after the service at Thai Basil Restaurant, 132 Newbury Street, downstairs. The restaurant is nearby, and the food is delicious and reasonably priced! Please RSVP to the email we will send in advance of the service if you plan to join us, so we know how many to expect for the service and include in the reservation. If you are not on our email list, and would like to be notified, please send a request to inayatiorder. We look forward to seeing you there! Details and directions can be downloaded from this link.
---
Private Guided Meditation Retreats
Senior Sufi Teacher & Retreat Guide (36 years) Saphira Linden is offering individually guided retreats by Saphira and other Sufi Retreat Guides for any length of time (1-30 days) in a Sufi Retreat Center in Jamaica Plain. For more information call (617) 522-8300 or (617) 522-4181.
---