---
Boston, MA
---
Universal Worship
A Celebration of One Human Family
On the theme​: The Power of Love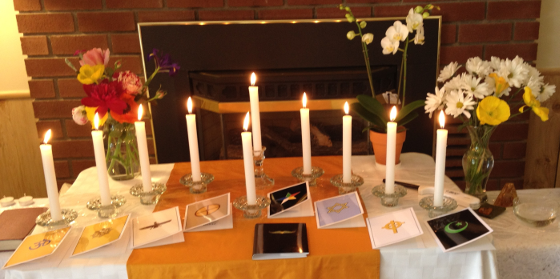 Lindsey Chapel at Emmanuel Church
15 Newbury St., Boston, MA (in the Back Bay)
Saturday, June 24th, 2017, 3:00PM
We will join together in Universal Worship, Hazrat Inayat Khan's inspired service bringing together all the world's religions at one altar, as one human family.
The service will honor two auspicious occasions, the 13th Urs of Pir Vilayat Inayat Khan on June 17th, and the Birthday of Murshid Hazrat Inayat Khan on July 5th. The theme, The Power of Love seems a fitting celebration of the lives of both of these beloved teachers. I am remembering that it was Murshid's dying wish that Pir Vilayat would build the Universel, the temple of all religions to house the Universal Worship, and the dedication and love with which Pir Vilayat accomplished that task, and spread his father's message of unity by offering the Universal Worship at camps throughout the world, furthering interfaith dialogue among religious leaders, and authoring the Cosmic Celebration. In that spirit, we will celebrate together. Bring your memories to share!
The service ​will be ​about an hour long, followed by refreshments​​.​ ​It ​will be conducted by Hermione Garland, a Cherag​, or minister of the Inayati Order of Greater Boston​, and sometimes joined by friends.​
Donations are gratefully accepted to cover costs. We have arranged discounted parking nearby for $8.00 for 11 hours. Details and directions can be downloaded from this link.
We will make a reservation at Thai Basil Restaurant, at 132 Newbury Street for all who would like to join together for dinner afterwards. The restaurant is nearby, the food is delicious and reasonably priced! Please RSVP ​if you plan to join us so we know how many to expect for the service and include in the reservation.
Private Guided Meditation Retreats
Senior Sufi Teacher & Retreat Guide (36 years) Saphira Linden is offering individually guided retreats by Saphira and other Sufi Retreat Guides for any length of time (1-30 days) in a Sufi Retreat Center in Jamaica Plain. For more information call (617) 522-8300 or (617) 522-4181.
---